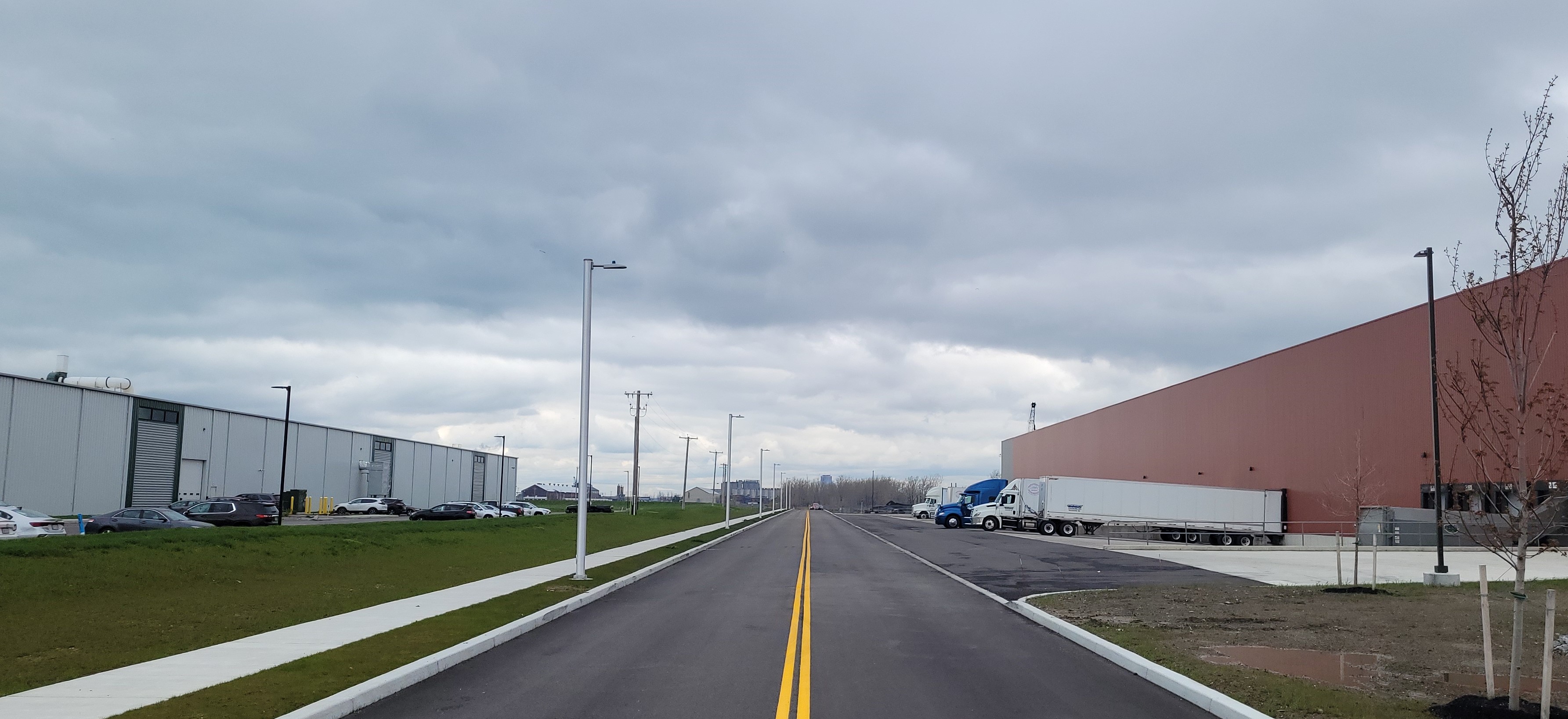 The Erie County Industrial Development Agency, through its development arm the Industrial Land Development Corporation (ILDC), manages redevelopment efforts on approximately 240 acres on the former Bethlehem Steel site, now known as Renaissance Commerce Park.
---
IN THE NEWS:

May 5, 2023
Left to right: Lackawanna Mayor Annette Iafallo; Congressman Brian Higgins; Erie County Executive Mark Poloncarz; NY Senator Tim Keneddy; ESD WNY Regional Director Karen Utz; ECIDA/ILDC President and CEO John Cappellino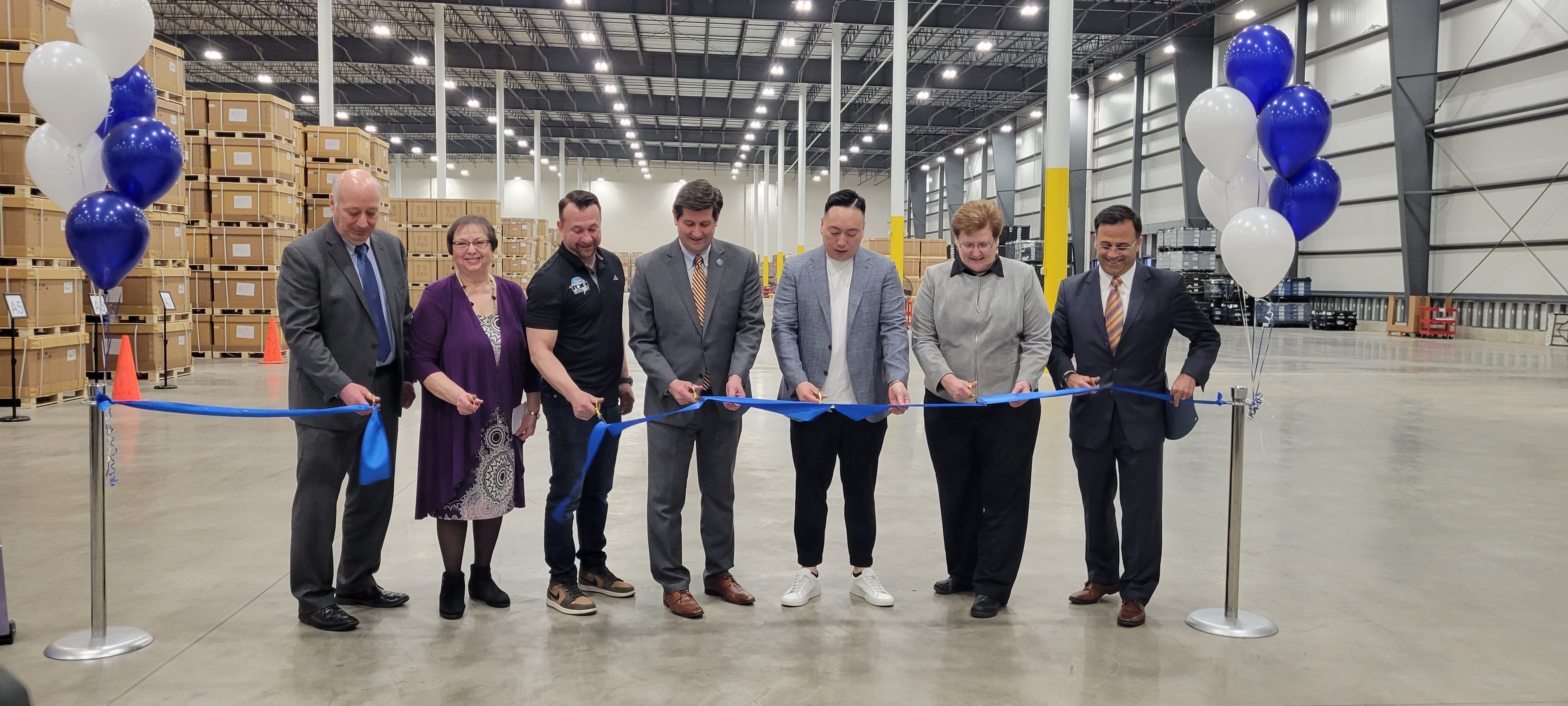 March 23, 2023
Cutting the ribbon at 8 Dona Street, Uniland Development's new warehouse/distribution facility.
L-R ECIDA/ILDC President and CEO John Cappellino, Lackawanna Mayor Anette Iafallo, new tenant TQAI representative, Erie County Executive Mark Poloncarz, new tenant Max Advanced Brakes representative, ESD Regional Director Karen Utz,

Uniland CEO Michael Montante

February 3, 2023
Steelworkers Way: Poloncarz, Iafallo, ESD & ILDC unveil new street name honoring workers who labored at former Bethlehem Steel site
L-R Lackawanna resident and former steelworker Charlie Poloncarz (father of Mark Poloncarz);
Erie County Executive Mark Poloncarz; Lackawanna Mayor Anette Iafallo; ESD Regional Director
Karen Utz; ECIDA/ILDC President and CEO John Cappellino
September 28, 2022
Renaissance Commerce Park redevelopment project receives Silver Award for "Excellence in Economic Development, Multi-year Program" from the
International Economic Develpoment Council (IEDC):
May 12, 2022
TMP Technologies cuts ribbon on first business at Renaissance Commerce Park
:

In 2012, Erie County Executive and ILDC Chair Mark C. Poloncarz made a priority of redeveloping Lackawanna's former Bethlehem Steel site into a thriving manufacturing and warehouse commerce park.
In 2018, the ILDC completed the purchase of the initial 150-acre parcel along Route 5.
The greatest milestone in 2019, however, was the commitment made by Buffalo cleaning products manufacturer TMP Technologies. TMP had outgrown its current Dingens Street facility, and chose Renaissance Commerce Park to expand its operation.
They purchased 26 acres off the Dona Street Extension and built a brand new 290,000 sq. ft. facility, making TMP the first official manufacturer located in Renaissance Commerce Park.
TMP's total private investment is estimated around $22.7 million, adding 20 new jobs and ensuring the retention of 103 full-time positions. For more information about the TMP project, please click here: TMP Technologies Press Release PDF
In 2021, Uniland Development agreed to purchase a ten-acre parcel for a new-construction commercial warehouse building,
For more information on available parcels on Renaissance Commerce Park, please call (716) 856-6525, to speak with an experienced member of our Business Develpment Team.
For more on the redevelopment history of Renaissance Commerce Park, click here.
In 2019, Erie County funded and completed a public bike path and the extension of Dona Street into the property. The ILDC completed the relocation of a railroad on the site and commissioned an infrastructure Master Plan.
Links:
Request for Proposal: Phase II parcels now available!
Click here for complete information and to download RFPs.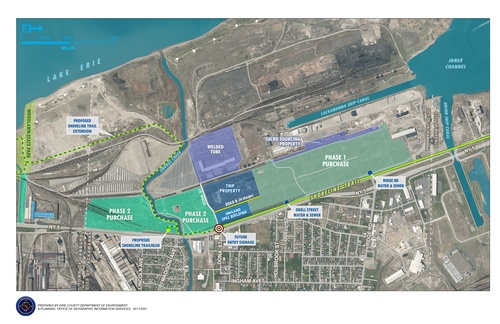 Archive Press Releases:
TMP Ribbon Cutting Press Release May 12, 2022
ILDC issues RFPs for Phase II at Renaissance Commerce Park March 7, 2022
ILDC Board approves Uniland Development Company's purchase of second parcel on former Bethlehem Steel site Wednesday, February 23, 2022
Uniland Groundbreaking Ceremony October 28, 2021 Press Release
Uniland Renderings and Renaissance Commerce Park Map
NOTICE:
The Renaissance Commerce Park Shoreline Trail Bike Path Options Public Meeting was held April 13, 2021 via ZOOM:
Please click here for a copy of the presentation.