Featured News - Current News - Archived News - News Categories
New Waterfront Park Praised
by dhall
Mon, Oct 31st 2011 12:00 am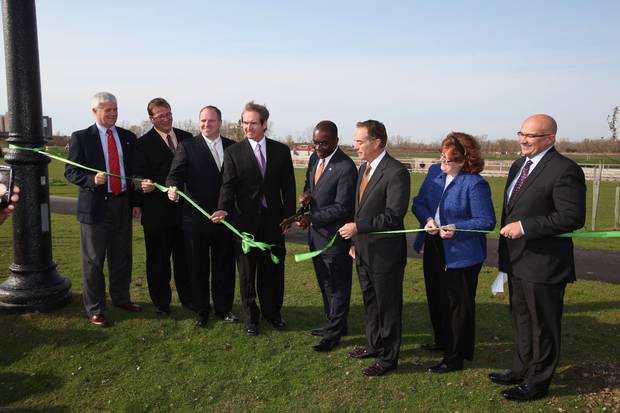 Ship Canal Commons, a $9.2 million waterfront park, is the new centerpiece of the Buffalo Lake Side Commerce park.
The new park, along Union Ship Canal, officially opened Monday. The 22-acre, public green space boasts restored native trees, aquatic wildlife, bike paths, hiking trails, fishing spots and a pedestrian bridge that spans Union Ship Canal. A multi-use trail connects visitors to the outer harbor, Tifft Nature Preserve and the Seaway Trail.
Officials from Buffalo, Erie County, Buffalo Urban Development Corp. and the state Department of Environmental Conservation gathered for a ribbon-cutting at the site, off Route 5, at the city's border with Lackawanna. The project, which was supervised by the Buffalo Urban Development Corp., received $6 million from the DEC, $1.3 million in county matching funds, along with other federal and state grants.
"We are going through a renaissance in Buffalo because of great partnerships to help it realize its potential as a great waterfront city," said Rep. Brian Higgins, D-Buffalo.
Ship Canal Commons also serves as the southern anchor to the Niagara Greenway.
Its bevy of recreational assets could also have economical benefits, attracting more commercial tenants to the transformed brownfields that were once the site of Hanna Furnace plant.
The project was hailed for its collaborative spirit by other elected officials, who also touted it as a successful merger environmental remediation, ecological restoration, economic development and historical preservation and interpretation.
Ship Canal Commons is an example of the strength the public and private sectors can summon when they join forces, said Thomas A. Kucharski, CEO and president of Buffalo Niagara Partnership."It's Exhibit "A' for demonstrating that the environment and economy are linked and mutually interdependent," said Joe Martens, DEC commissioner.
Mayor Byron W. Brown said the city is No. 1 in the Northeast in the reclamation of brownfields and the transformation of contaminated site to a lush green space is an example of the city's dedication to cleanup efforts and its waterfront revitalization.
"We're pleased but not finished," he said. "We have to keep going, keep focusing on opportunities to increase businesses and job opportunities for residents."
Lakeside is anchored by three companies -- CertainTeed Corp., Cobey Inc. and Sonwil Distribution -- that employ more than 400 employees.
Work to create Ship Canal Commons began last year and entailed debris removal, excavation of contaminated soils and the placement of 2-foot layer of clean soil over the whole site. Sections of the 100-year-old canal wall weren't sound, so they had to be stabilized by a berm of gravel and sand.
The site had been used by Hanna Furnace for unloading and storage of raw materials, such as limestone and ore. Ship Canal Commons does not depart from its manufacturing past. Its landscaping recalls the region's steel and iron heritage. The project also included work to improve conditions so native species of fish and other aquatic wildlife survival and multiple survive and multiply through the Buffalo River basin.
Funding came from different sources, including $2 million from the American Recovery and Reinvestment Act.