Demystifying Economic Development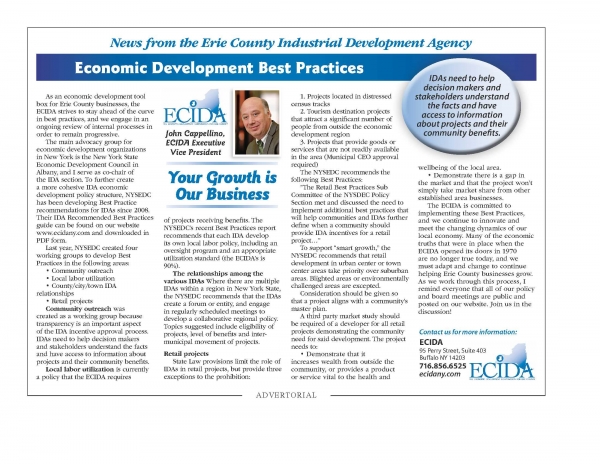 Best Practices
By John Cappellino
ECIDA Executive Vice President
As an economic development tool box for Erie County businesses, the ECIDA strives to stay ahead of the curve in best practices, and we engage in an ongoing review of internal processes in order to remain progressive.
The main advocacy group for economic development organizations in New York is the New York State Economic Development Council in Albany, and I serve as co-chair of the IDA section. To further create a more cohesive IDA economic development policy structure, NYSEDC has been developing Best Practice recommendations for IDAs since 2008. Their IDA Recommended Best Practices guide can be found here..
Last year, NYSEDC created four working groups to develop Best Practices in the following areas:
• Community outreach
• Local labor utilization
• County/city/town IDA relationships
• Retail projects
Community outreach was created as a working group because transparency is an important aspect of the IDA incentive approval process. IDAs need to help decision makers and stakeholders understand the facts and have access to information about projects and their community benefits.
Local labor utilization is currently a policy that the ECIDA requires of projects receiving benefits. The NYSEDC's recent Best Practices report recommends that each IDA develop its own local labor policy, including an oversight program and an appropriate utilization standard (the ECIDA's is 90%).
The relationships among the various IDAs Where there are multiple IDAs within a region in New York State, the NYSEDC recommends that the IDAs create a forum or entity, and engage in regularly scheduled meetings to develop a collaborative regional policy. Topics suggested include eligibility of projects, level of benefits and inter-municipal movement of projects.
Retail projects
State Law provisions limit the role of IDAs in retail projects, but provide three exceptions to the prohibition:
1. Projects located in distressed census tracks
2. Tourism destination projects that attract a significant number of people from outside the economic development region
3. Projects that provide goods or services that are not readily available in the area (Municipal CEO approval required)
The NYSEDC recommends the following Best Practices:
"The Retail Best Practices Sub Committee of the NYSDEC Policy Section met and discussed the need to implement additional best practices that will help communities and IDAs further define when a community should provide IDA incentives for a retail project..."
To support "smart growth," the NYSEDC recommends that retail development in urban center or town center areas take priority over suburban areas. Blighted areas or environmentally challenged areas are excepted.
Consideration should be given so that a project aligns with a community's master plan.
A third party market study should be required of a developer for all retail projects demonstrating the community need for said development. The project needs to:
• Demonstrate that it increases wealth from outside the community, or provides a product or service vital to the health and wellbeing of the local area.
• Demonstrate there is a gap in the market and that the project won't simply take market share from other established area businesses.
The ECIDA is committed to implementing these Best Practices, and we continue to innovate and meet the changing dynamics of our local economy. Many of the economic truths that were in place when the ECIDA opened its doors in 1970 are no longer true today, and we must adapt and change to continue helping Erie County businesses grow. As we work through this process, I remind everyone that all of our policy and board meetings are public and posted on our website. Join us in the discussion!