Business First: Steve Weathers Profile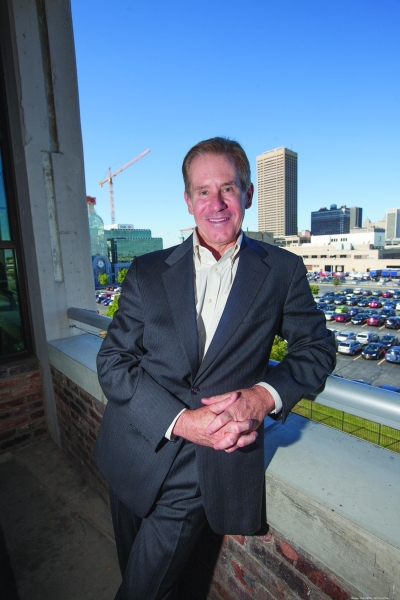 Steve Weathers came to Buffalo after a stint as president and CEO of World Trade Center San Diego.
Though he has extensive economic development experience across the United States, he was leaving his existing networks behind.
It's been roughly nine months since he began as president and CEO of the Erie County Industrial Development Agency, responsible for helping craft deals that allow businesses to expand, keep others from leaving and pave the way for pricey building projects.
Weathers is still working to get acclimated to the business community, and his week is filled with meetings countywide. They include everybody from well-known leaders of large businesses to proprietors of independent mom-and-pop shops.
Weathers stole a few moments from his schedule to discuss how the leader of a government business agency integrates himself into a new community.
One of the first weeks I was here, there were articles about SolarCity and (Riverbend Commerce Park), and there were articles about a $150 million investment in the Ford plant in Tonawanda.
There is very unique positioning in Buffalo, in that you're creating more traditional manufacturing jobs, and you've also got high-tech, knowledge-based jobs. So I guess as an outsider, I was like, "Do you really realize what you have here?"
But one of the things about being the new person to town was I didn't have a network here. I didn't know everybody.
So I've made a really conscious effort to get out and meet with businesspeople large and small, speak to business groups that are out there and attend networking.
As an example, I've spoken with the downtown Rotary, the Amherst chamber, the Hamburg chamber, the Hamburg IDA, Clarence IDA. I have a Perry's Ice Cream tour and I'm touring Tonawanda. And that's just this week!
I've noticed there's a very strong allegiance to local businesses, local coffee shops, local store owners.
Nothing against chains — it's just that the community has such great allegiance to local small business owners.
How I network is boots on the ground, really going out and trying to meet various individuals, but a variety of them.
I've toured Rich Products, a large business, but I'll go and tour a small business, as well.
You have to get out if you want an idea of what the issues are.
Also, because we are the ECIDA and we provide economic development tools, I ask people, "What are your needs? Do we have a tool we can create or augment to fit that need?"
I spoke for 15 to 20 minutes at the downtown Rotary, and at the end of that, I said "I've been speaking for 20 minutes and I haven't learned one new thing." So I turned it around and said, "I'll start asking you some questions."
I try to engage the audience so they can tell me what I need to know — which is how to be a partner, a supporter of your business community. From that, I've already had three or four business meetings.
The other thing I'm doing is the Core program (offered by the University at Buffalo's Center for Entrepreneurial Leadership, in the School of Management).
It's a 10-month business program for entrepreneurs, a weekly class, so that's a way to get in there and understand issues in the business community.
It's a unique opportunity that I haven't done before, getting under the skin of a small business in our region and our town.
We're really here to open doors for people who can't otherwise get through them.
When you get out into the community, you don't know how you're going to meet and help next.
Long term, what we want to do at the ECIDA is be a partner but also have the ability to evolve and improve as the needs of the business community change.
Many organizations lay a plan, and that's the way they'll do things, the same way, year in and year out. I don't want to hear that about us. Four, five, eight years from now, I want to say we're doing it differently, because the business community has changed. The jobs and the people have changed.
— As told to Dan Miner