ECIDA COO Will Retire at the End of 2013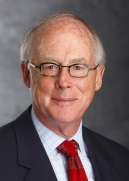 Alfred D. "Al" Culliton has led the area's largest agency since 2006, overseeing more than $3.4 billion in business investment across Erie County
Buffalo, NY - Alfred D. "Al" Culliton, the Erie County Industrial Development Agency's Chief Operating Officer and Acting Chief Executive Officer, announced today he will retire as of December 31st.
Mr. Culliton, who oversees all aspects of the economic development activities of the ECIDA and its affiliated corporations, was honored as the 2011 Economic Developer of the Year by the New York State Economic Development Council.
ECIDA Board Chairman John Lafalce noted Mr. Culliton has done an outstanding job as Chief Operating Officer and acting CEO of ECIDA and its affiliates. "The loss of his finance and economic development knowledge will be very hard to replace. I am very pleased that he has agreed to stay on during the transition to new leadership."
Mr. Culliton said "I feel it's the right time. I've had a very rewarding 21-year ECIDA career and I'm proud of our accomplishments particularly in the venture capital arena and in enhancing our small business and micro lending capacity especially for minority businesses."
Erie County Executive Mark County Executive Poloncarz praised Mr. Culliton's contributions to the ECIDA.
"In the past year of working with Mr. Culliton on ECIDA issues, I've been impressed with his knowledge of economic development issues and his ability to get things done. Throughout his time at the ECIDA, Al has been a tireless advocate for economic improvement in Erie County, and I wish him well," the county executive said.
Mr. Culliton said he would like to keep a hand in the venture capital sector after his retirement including being active with Launch NY, the WNY Venture Association and the Buffalo Angels.
The ECIDA is expected to make decisions regarding the search Mr. Culliton's successor over the next few months.
Mr. Culliton joined the ECIDA and its affiliates in 1992 as Chief Lending Officer and added the title of President, Niagara Region Certified Development Corporation in 2001. He was promoted to Chief Financial Officer/Treasurer of the ECIDA in 2003, a title he retained through 2009, and for the last 6 years he has worn both COO and acting CEO hats.
Since Mr. Culliton became its COO, the ECIDA has assisted projects with total investment exceeding $3.4 billion. He oversaw creation of and manages an innovative public sector venture investment fund targeting early stage entrepreneurial companies in Erie County. This fund has invested over $8 Million in 34 local companies. Cash return to ECIDA exceeds $11 Million to date.
He has been involved in fostering the entrepreneurial ecosystem across 26 counties of Upstate New York through the Launch New York venture development organization. During his tenure, ECIDA's affiliate lending company made some 396 loans for over $61 Million, established an innovative loan program which allowed for structured participation loans with local commercial lenders, initiated the ECIDA's participation in the SBA Micro Lending program, and launched a minority entrepreneur loan/scholarship program aimed at creating entrepreneurial opportunity in the minority community.
Before joining ECIDA, Mr. Culliton worked for 14 years as a bank commercial lender and manager, including at JPMorganChase and M&T. He also served six years as Chief Financial Officer for several distribution companies, and several years in secondary education.
He holds a BA and MA in Mathematics from Fordham University and an MBA from Canisius College.
He serves on the Board of Directors of the New York State Economic Development Council and recently was elected Vice Chair. He also serves on the Board of Directors of the Empire State Certified Development Corporation, the Buffalo and Erie County Workforce Investment Board, First Wave Technologies, and the Western Region Corporation.
He has been a judge for the New York State Business Plan Competition. His areas of specialty include economic development, tax incentives, lending, entrepreneurial and venture capital, and project financial analysis and management.