UB Interns Play Key Role in "Exports to Canada" Program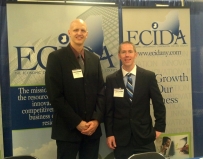 For Western New Yorkers, autumn signals the start of the school year, the onset of cooler temperatures and for 10 lucky local companies, it marks the start of their journey to gain access to the Canadian market. Yes, the ECIDA's "Exports to Canada" program is off and running!
The Exports to Canada program matches local businesses seeking to expand their customer base into Canada with interns dedicated to helping them achieve this goal. Mark Bortz and Chris Courtney, two ECIDA interns, have been instrumental in getting this program off the ground. Their focus has been on matching graduate level interns from UB's School of Management with these local companies. While the anticipated benefit to the businesses is quite clear, this program has also provided our interns with access to some of WNY's most fascinating companies and has given them insight into the ECIDA's mission. "At the start of this internship, I was pretty green when it comes to IDAs and economic development. This experience has given me an appreciation of how economic development entities directly benefit companies and the community" notes Mark. While Chris and Mark head back to school this fall to pursue their MBAs, they will remain with the Exports to Canada program to provide a post program review and analysis. Maryann Stein, ECIDA International Programs Director added "At the time of their hiring, it was truly not known the important role Mark and Chris would serve in bringing the Exports to Canada Program together. Because of their extensive business backgrounds as well as being UB students, they were the perfect choices to serve as liaisons between the companies looking to export and the interns at UB looking for an opportunity to gain international business experience. This program will make a difference to all who participate and Mark and Chris are instrumental in allowing all to capitalize on these opportunities: the companies, the interns as well as our local economy."